Ref:
Date:
Location:
Photographer:
Ref:
Date:
Location:
Photographer:
Member Activities
Saturday January 27th, portrait demo by John Glover
08/01/18
John will be demonstrating a portrait in oils for us. At URCH, 1.30pm for 2pm start until 4pm. The picture here is from the last demo he did for us, in pastel. FREE for members. Non members welcome for a small fee of £3.
January Social gathering
08/01/18
Tuesday 16 January at the Marsh Harrier, Ipswich road. The theme for January is "Shapes"
All members welcome. Any questions please contact Clive Brookes or e mail NNAC
08/01/18
Demonstrations are free for members. Non members welcome for a nominal charge of £3 per demonstration.
...more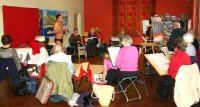 05/01/18
04/01/18
Art in Norwich August 2017 - March 2018
...more
Forum Exhibition: The Jarrold Prize winner!
27/11/17
Sue Bunce won the Jarrold prize at the Forum exhibition, November 2017, with her beautiful little oil painting "Sea Horses". Sue wins a studio easel and £40 worth of art materials of her choice from Jarrrolds. Congratulations to Sue and many thanks to Jarrolds for sponsoring this prize again.
14/11/17
1.30-4pm Saturday 25th November at United Reform Church, Ipswich Road, Norwich
...more
Brancaster Staithe Village Hall NNAC Exhibition 15-17 September 2017
PE31 8BZ
15/09/17
The exhibition will start on Friday 15th September after it has been hung. Finishes 4.30pm on Sunday 17th.
Hostry exhibition 2017 winner of popular choice award.
20/07/17
Liz Balkwill won the popular choice award for her portrait entitled "The Builder". Liz wins a voucher from Norwich Art Supplies, St Benedict's street, Norwich. Congratulations Liz!
07/07/17
Congratulations to member John Shave.
...more
Highly commended for NNAC member
15/06/17
Member Reg Anderson was awarded highly commended in the wildlife section of the SAA Artist of the Year competition 2017 for his pastel "Sparring Seals on the Norfolk Coast" Congratulations Reg. The commended painting and some of Reg's other work can be seen in the member gallery.
01/05/17
Line and Watercolour – A Bold Contemporary approach
by Jackie Devereux
...more