Ref:
Date:
Location:
Photographer:
Ref:
Date:
Location:
Photographer:
Member Activities
Tasburgh Village Hall art exhibition
23/09/17
14th and 15th October 2017. Application forms can be obtained from admin@tasburghvillagehall.org.uk Deadline for applications and payment 29th September.
Bullens Jewellery design competition.
23/09/17
Norfolk Wildlife Trust event
23/09/17
When: Thursday 5th October, 10.30am – 3.30pm
Where: Cley Marshes Visitor Centre, Coast Road, Cley next the Sea, NR25 7SA
Cost: £22 NWT members, £26 non-members
Description: Create art inspired by the colours of the autumnal landscape in a medium of your choice. Local
artist Gareth Jones will guide you and also demonstrate wet and dry techniques with soft pastel.
Booking: Call 01263 740008
Paint Out Wells
15/09/17
Some members will be taking part in Paint Out Wells next the sea from 15th to 17th September. While you're visiting the NNAC exhibition at Brancaster why not go to Wells too and see what the Paint Out artists are up to.
http://www.paintoutwellsnextthesea.org/
Brancaster Staithe Village Hall NNAC Exhibition 15-17 September 2017
PE31 8BZ
15/09/17
The exhibition will start on Friday 15th September after it has been hung. Finishes 4.30pm on Sunday 17th.
Demo - Vic Bearcroft Saturday 23rd September
08/09/17
Vic Bearcroft Animal portraits in pastel. URCH, Ipswich Road, Norwich 1.30 for 2pm -4pm
September Social gathering
08/09/17
Tuesday 19th September at the Marsh Harrier, Ipswich road. The theme for September is "Reproducibility"
All members welcome. Any questions please contact Clive Brookes or e mail NNAC
08/09/17
Art in Norwich August 2017 - March 2018
...more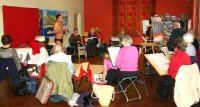 07/09/17
Exhibition opportunity October/November 2017
09/08/17
"By Moonlight" exhibition at The Studio Art Gallery, Acle from October 15th to November 17th. Artists are invited to submit one or two pieces of original unseen 2D artwork for a themed exhibition. Submissions must be received by the 25th September. More details from
http://lorraineautonart.co.uk/by-moonlight-tandc
Hostry exhibition 2017 winner of popular choice award.
20/07/17
Liz Balkwill won the popular choice award for her portrait entitled "The Builder". Liz wins a voucher from Norwich Art Supplies, St Benedict's street, Norwich. Congratulations Liz!
07/07/17
Congratulations to member John Shave.
...more
01/07/17
Creative Watercolours with Rosalie Osborne Gibb, The Studio Gallery, Acle, Norfolk, NR13 3DY
...more
30/06/17
Demonstrations are free for members. Non members welcome for a nominal charge of £3 per demonstration.
...more
Highly commended for NNAC member
15/06/17
Member Reg Anderson was awarded highly commended in the wildlife section of the SAA Artist of the Year competition 2017 for his pastel "Sparring Seals on the Norfolk Coast" Congratulations Reg. The commended painting and some of Reg's other work can be seen in the member gallery.
01/05/17
Line and Watercolour – A Bold Contemporary approach
by Jackie Devereux
...more